BenQ SW752 Projector
Manufactured By: BenQ
Model: 9H.JGH77.24E
WXGA Resolution
4700 Lumens
HDMI
3.3 kg
4700 ANSI Lumens, WXGA, DLP Technology, Meeting Room Projector, 3.3 Kg
Description
Powerful Projection Performance and High Integration Flexibility for Corporate Installations
Ideal for efficient replacement of corporate projectors, BenQ SW752 delivers superior high brightness for effective visual communication in bright conference rooms and boardrooms. Comprehensively equipped for flexible installation, SW752 can smoothly integrate into existing centrally managed display infrastructures and provide additional versatility through a wide range of wireless presentation options.

Vivid Clarity in Ambient Environments
SW752's 4,700lm high brightness allows presenters and participants to deliver presentations in comfortably lit medium-sized conference rooms, while supporting uncompromised debate, collaboration, note-taking and interaction to achieve the most productive meetings. The high luminance provides professional picture quality for installers to satisfy stringent corporate standards.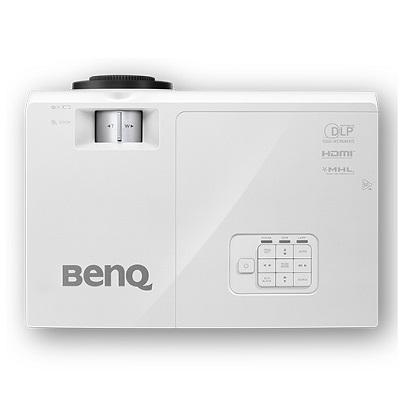 High Contrast Ratio for Clear Readability
BenQ's SW752 projector delivers industry-leading contrast and pixel fill factor, producing the truest blacks and unmatched legible sharpness in presentations and documents. High fill factor sharpens clarity in black-and-white documents as well as colorful images while reducing eye strain.

Flexible Throw Ratio and the 1.5x Zoom for Efficient Upgrades
With flexible throw ratio ranges and a 1.5x Big Zoom, corporations can easily and economically replace outdated projectors by making use of existing ceiling mounts to project large-scale images in restricted spaces. The 1.5x zoom allows SW752 to be mounted anywhere from 3.8 to 5.7 meters from the screen and project images of 120", which is the typical image size for corporate meeting rooms, avoiding costly renovation or installation downtime.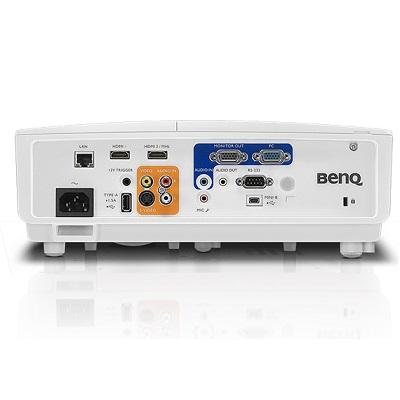 Advanced Image Calibration for Ideal Projection Alignment
SW752 is equipped with a two-dimensional keystone correction range of ±30o on both horizontal and vertical axes to counteract the trapezoid effect, a common phenomenon when the projector must be installed off-center. Installers can use Corner Fit control to adjust each corner respectively, for perfectly aligned image geometry.

Comprehensive Control System Compatibility
SW752 is widely compatible with leading projector control systems including Crestron, AMX, Extron and PJ-Link, which fulfills network control via LAN, making it simple to integrate into corporate network infrastructures. When there is no LAN infrastructure, SW752 also supports RS-232 for reliable long-distance Installations up to 15 meters.
*BenQ has been officially certified by Extron in 2017. Extron: Developed by Extron, IP Link driver allows device monitoring, control, and support over LAN when MediaLink controller, IP Link Ethernet control interface, or other IP Link-enabled device is installed

Centralized Control with BenQ's MDA Software
The BenQ Multiple Display Administrator (MDA) software provides powerful centralized multiple-projector management, including automated opening and closing procedures for public spaces, remotely controlled power on and off, and scheduling for institutions and corporations.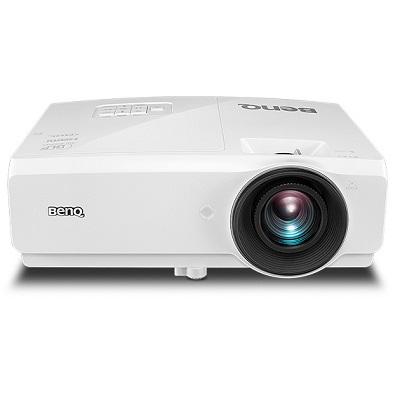 One Button to Start Full HD Wireless Presentations
BenQ InstaShow™ WDC10 is a unique zero software solution that allows up to 16 presenters to lead from any device. The plug and play device requires no driver installation and is compatible with any OS or hardware platform, making it easy for presenters to wirelessly take turns delivering seamless presentations for improved meeting efficiency.
*Compatibility requirements are: USB/HDMI ports on source laptop and HDMI input on display device

Wireless Multimedia Presentations from Smart Devices
To satisfy corporate employees' growing BYOD needs, BenQ offers the QCast Wi-Fi dongle to let meeting participants wirelessly project Full HD multimedia content, including videos, documents, and live camera (video) sessions from any mobile device. With the multiple presenter capability accommodating up to four presenters in four split screens, BenQ wireless solutions encourage full participant engagement, collaborative teamwork, and inspirational discussions for highly effective meetings.

Upper Lamp Door for Simplified Lamp Maintenance
A quick-release lamp door provides IT managers' convenient access for efficient lamp maintenance without having to remove the projector from the ceiling mount.

Long-Lasting DLP Prevents Color Decay and Conserves Energy
Equipped with the durability of digital micromirror devices and a nearly-sealed projection engine designed to prevent dust image, the DLP-powered SW752 resists color decay and image degradation. This preserves picture quality even after thousands of hours of operation.