This unique, portable screen is easy to use and very stable with its high quality casing. The Optoma MWL Pull Up is an ideal screen for travelling, whether it's from room to room or around the country.
This screen is available in both business presentation and home cinema formats. These screens are also great for rental properties when you are unable to mount a screen to a wall or ceiling.
* Light Weight, fully portable, ergonomically designed.
* Spring loaded screen self-retractable, lockable handle.
* The high quality alloy is solid yet light, and is designed
to be extremely mobile and easy to travel with.
* Perfect alternative to the traditional tripod screen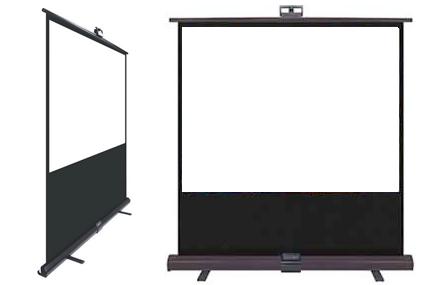 | | |
| --- | --- |
| Model Number | DP-3072MWL |
| Type | Portable Lift |
| Format | 4:3 |
| Gain | 1.0 |
| Screen Material | Matte White |
| Viewing Size (wxh) (mm) | 1460 x 1100 |
| Diagonal Viewing (inch) | 72 |
| Black Border R & L (mm) | 35 |
| Black Border Bottom (mm) | 642 |
| Black Border Top (mm) | 35 |
| Weight (Kgs) | 5.2 |
| Case Dimensions | 1620 x 60.19 x 77 |
| Case Dimensions (Including Bracket) | 1620 x 60.19 x 77 |
| Carton Size | 1730 x 198 x 165 |